Cheap Suitcases – What Can I Get for Under £25
So I'm looking for cheap suitcases. Hold on a second, I need answers to a few questions first. What's cheap? A fiver? A tenner? £29.99? And what do I mean by "suitcase"? Is it something just to hold clothes and stuff? Or do I need it to protect all my duty free bottles on the way back? And what size? Is it for a weekend away or two weeks in the sun?
Cheap? That's only something you can answer. For me it means about £25 or less. Suitcase? Hard, soft, backpack? Its got to be reasonable quality. Have you seen what those baggage handlers do to your stuff? Size? Yes size IS important and weight too if you're not to fall foul of excess luggage charges. Check the airline your travelling with. And one things for definite. It better look as cool as me striding through the airport, I do not want to be in my shades pulling something that looks like my granny's shopping trolley thank you very much. OK Let's shop for cabin luggage 55x40x20cm with wheels at about £25. First we'll hit the highstreet.
TESCO SUITCASES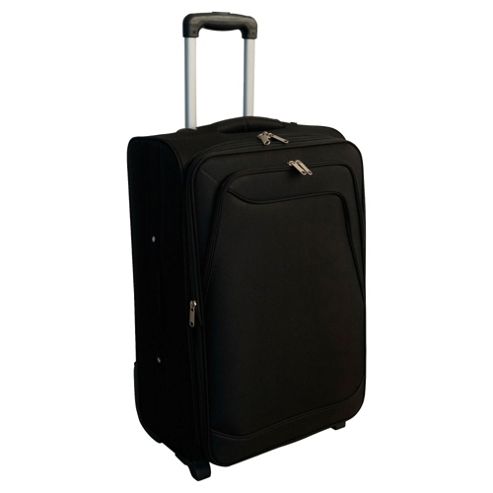 Tesco have their own brand, of course, and at £17 with a four star rating and over 25 reviews the Small Black Tesco 2-Wheel Soft Sided Suitcase is in the right ballpark and worth a look. It says it fits most airlines as cabin luggage but its 52 x 34 x 23cm. I don't like the 23cm. I'm looking for 55x40x20 max. which will fit most airlines for cabin luggage. And at 2.9Kg its heavy. That's almost a third of my 10Kg cabin baggage allowance gone already.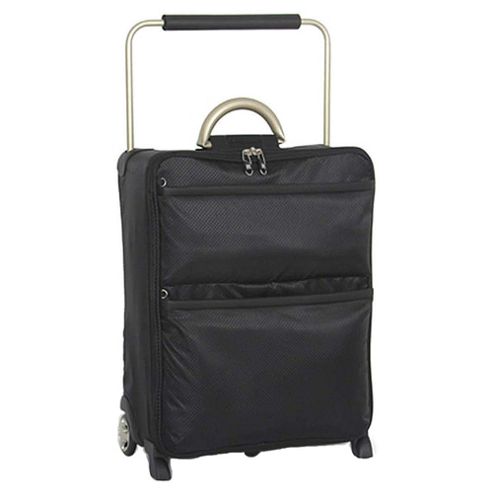 Tesco do the "worlds lightest suitcase" as does everyone else it seems. It has a very high star review rating and over 160 reviews. This is spacious and very light at only 1.63Kg. Its been tried and tested on Ryanair flight and fits perfectly in the luggage 'tester' as long as you don't overstuff it or put too much in the pockets before boarding. Its easy to manoeuvre but for me this one looks most definitely like my gran's shopping trolley.
Check the full range of TESCO Luggage
MATALAN SUITCASES
The Globaltrek Soft 2 Wheel Suitcase has two wheels and be made from EVA and a tough 500 x 300 denier material and was only £13 – definitely in the "cheap suitcases"  section but bigger than the 55x40x20cm limitations. No brand mentioned but this World's Lightest Maximum All Airlines Cabin Case has got to be the same one as Tesco's except its got even lighter and has an extra 1 litre of storage space! Its also dearer and that's even with £10 off!.
Check the full range of MATALAN Luggage
SPORTSDIRECT SUITCASES
They seem to be mostly Dunlop suitcases at Sportsdirect. One suitcase that looked promising was the Kangol Chocolate 4 Wheel Suitcase. For under £10 (was £59.99 if you believe that) I could tolerate the colour and it did have four wheels but it failed the size test. At 55 x 40 x 24 it was the depth of 24 that again I couldn't be comfortable it would pass the size test at the airport. At 3.75 Kg it was far too heavy. Remember I've only got a 10Kg limit and that's more than a third of it. It did have 75 ratings giving it a 2.5 stars. They say that "This is accepted as hand luggage by most airlines, but check with the airline before you travel!". The 16 inch Cabin Friendly Suitcase version was well within the siz elimits but at 3.2 Kg was still way too heavy.
Check the full range of SPORTSDIRECT Luggage
ASDA SUITCASES
The Worlds Lightest 2 Wheel Carry-On Luggage makes an appearance here again at £30 and gets a 4.8/5 star review rating from 10 reviews. But the Nexus Black Carry-On Luggage by Antler looked quite cool. It was  a little over my budget though at £35 and the weight was a reasonable 2.3Kg. The 56 x 36 x 20.5cm dimensions were marginally over what I want but over none the less.
Check the full range of ASDA Luggage
ARGOS SUITCASES
Again the World's Lightest Small 2 Wheel Suitcase in Charcoal makes an appearance this time at £28.49. Its got even lighter at 1.58Kg and kept the extra lire of space gained in Matalan. If we keep going it'll weight nothing at all!
There's an Argos Value Range Small 2 Wheel Suitcase in Black which is part of the Argos Value range and has over 400 reviews and rates very highly on quality, size, practicality and design. It costs only £12.99 and its light at 1.8Kg but that's because its small. 20 litres capacity with dimensions of 42 x 34 x 16cm . Too small for my needs.
Check the full range of ARGOS Luggage
TKMAXX SUITCASES
A couple of opportunites here at TKMaxx. A 5 CITIES Black Softshell Suitcase at £24.99. A black soft shell trolley suitcase with a green trim, multiple zip compartments, an extendable handle and two wheels. This suitcase is available in extra small, small, medium, large and extra large. Their Extra Small size had dimensions of 55 x 35.5 x 20cm which suited me well but I couldn't find the weight.
Also the Red canvas trolley suitcase by Frenzy at £24.99. This time the Small size got me 53 x 34 x 17cm dimensions to fit within my 55x40x20 limits.. It has double zip fastening and security lock included.
Check the full range of TKMAXX Luggage
TJHUGHES SUITCASES
Frenzy Polka Dot Luggage in Black & White at £19.99. The Size 21″ has the perfect dimension of 55 x 40 x 20cm (All Parts Included) Cabin Approved 35L and weighs in at a reasonable 2.50Kg
Check the full range of TJHUGHES Luggage
DEBENHAMS SUITCASES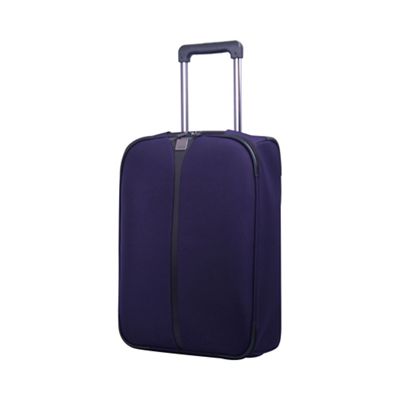 The Tripp Superlite III 2-wheel Cabin Suitcase Grape is expandable with great internal organisation – the perfect family holiday case. At 54 x 37 x 18.5 it measured up. AT 2.5 Kg it was OK for weight. And The 4.4/5 review rating was good. The only downside was the price. At £44 it was well over my budget as were most of Debenhams range of suitcases.
Check the full range of DEBENHAMS Luggage
AMAZON.CO.UK SUITCASES
Finally over to Amazon. Could they satisfy my needs any better? I was spoiled for choice for what I could get for my £25. This is really where I should have been all along! Look at the prices – cheap suitcases indeed!